Allotment Workshops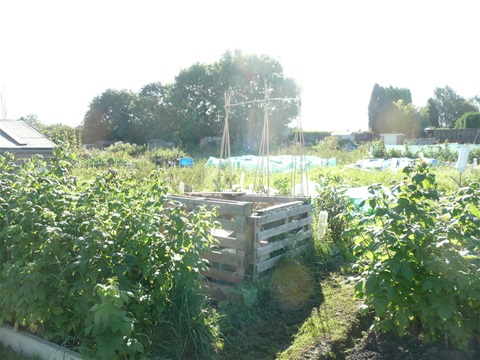 Workshops are offered on allotment safety inspections and risk assessment
Allotment safety inspections
Use of a checklist system to carry out a realistic allotment safety audit and inspection. Offered as a ½ day or day workshop or a whole day including an on-site practical session carrying out an inspection of your site by the groups.
Allotment Health & Safety Risk Assessment.
Health and safety risks on the allotment and the preparation of a realistic risk assessment based on the actual likelihood and potential severity of injury.
Talks on Allotment Composting
Composting on Allotment Plots.
A similar session to that provided on home composting but with the empharis on the types of bins used on allotments and the use of garden rather than kitchen waste.
Community Composting on Allotments
Starting and operating a community composting area for use by all the plot holders. Benefits of community composting, Exemption certificate, choice of system e.g bays or windrows, 3 and 4 bay systems, construction of bins, to shred or not to shred, turning, record keeping, temperature and moisture monitoring,
Asbestos compost bin

It is still relatively common to find asbestos cement sheets being used on allotment sites

Asbestos compost bin

Where asbestos is in use plot holders should talk to the site managers to arrange for it to be removed
Garden Accidents or Bill and Bens revenge
Talks to garden clubs and allotment societies on accidents in the garden. A light hearted approach to a serious topic. Check out the most popular accidents and causes so that your members can avoid having an unfashionable accident. Covers slips, falls, manual handling (including the annual 4,000 flower pot related injuries), cuts and fires and much more.